Marcus Harris has declared David Warner deserves to slot straight back into the Test side come the Ashes, a move that could come at Harris' own expense.
Warner's year-long ban for his role in the ball-tampering scandal expires on Thursday, meaning the dashing opener and Steve Smith, also banned for a year, can return in time for Australia's next major tournament – the World Cup.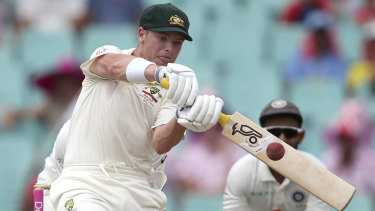 Warner and Smith are regaining their groove in the Indian Premier League, with both set to be selected for the World Cup in England.
Then comes the Ashes tour, where incumbent openers Joe Burns and Harris are vying with Cameron Bancroft and Warner for the top two roles.
Advertisement
Bancroft made a strong return from his nine-month ban through the second half of the Sheffield Shield season where the Dukes ball, modified for Australian conditions but similar to what will be used in England, has been employed.
While Harris' form tapered off as the home Test season unfolded, he is one of only two men to pass 1000 runs in the Sheffield Shield, with potentially more to come in the final against NSW, beginning on Thursday at the Junction Oval.
Warner will not play red-ball cricket until the lead-in matches against county sides in England – should he be selected for the Ashes tour – but Harris says the former vice-captain deserves to immediately reclaim his spot in the XI.
"If anyone averages nearly 50 as an opening batsman and made over 20 Tests hundreds, I know what happened happened, but I think he probably has the credits in the bank as a cricketer. I think like you saw throughout our Test summer, without the quality of players like that, teams can struggle. I think he probably deserves his spot back," he said.
Warner averages 48.2 with 21 centuries in 74 Tests. Harris averaged 32.7 in six Tests this summer but failed to make a century, while Burns made 180 against Sri Lanka in his last Test.
"Obviously, someone will miss out. There are only two spots at the top of the order and, I dare say, Davey Warner has probably got one of them, so it will be tight squeeze," Harris said.
"Whoever is making runs will probably take the position so I feel like I have been playing pretty well over the last month or so, doing everything I can do to try and keep my spot in that side. Once we get to England and there is that Australia A tour, that will probably be heavily weighted towards the Ashes squads."
National selection chairman Trevor Hohns has indicated the Ashes squad will be picked as late as possible – a shift from tradition.
Harris almost certainly will be a part of the Australia A tour of England, which will in part run concurrently with Australia's World Cup campaign. The robust left-hander Read More – Source