The Indian cricket board has taken the extraordinary step of issuing a statement denying Virat Kohli's alleged "stand-in captain" sledge at Tim Paine took place, in another sign pressure is mounting inside the visiting team's camp.
India's quest to win a historic first series on these shores is hitting major hurdles in the wake of their heavy loss in Perth.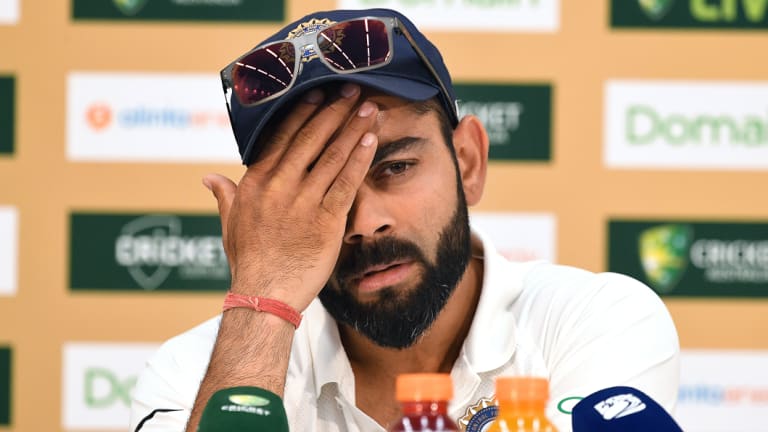 The defeat has been compounded by the negative publicity generated by their captain's belligerent on-field behaviour, allegations of in-fighting and disharmony over team selection.
Only hours after Kohli had decreed that what happens on the field stays on the field, the Board of Cricket for Control in India (BCCI) slammed as "baseless" reports its captain had mocked Paine.
Advertisement
Kohli is alleged to have told his opposing number "I am the best player in the world and you are just a stand-in captain" during a tense second Test in Perth.
The Herald understands host broadcasters Seven and Fox Sports could not find audio of the alleged remark. That suggests no remark was made within the range of the stump microphones but does not definitively prove it was not said.
"These claims were based on hearsay and the BCCI would like to bring into notice that no such words were spoken on the field by the Indian captain," the BCCI said.
"The BCCI got a clarification from the team management about the incident and would like to classify the reports as baseless."
It's believed Team India had also denied there had been a bust-up between Ishant Sharma and Ravindra Jadeja, unaware footage of the confrontation had been captured.
There will be little sympathy for India in the Australian camp after the BCCI published a video from the fourth Test in last year's spiteful series in which former wicketkeeper Matthew Wade and then captain Steve Smith taunted Ravindra Jadeja about his inability to be picked for away Tests.
That confrontation came before the International Cricket Council allowed networks to leave stump effect microphones on between balls.
Australia were the team which had their on-field behaviour under the microscope a fortnight ago but now it's their opponent being scrutinised.
"We've been talking a lot about not playing on emotion and playing on skill. We've done that really well this week," Australia paceman Mitchell Starc said.
"We threw in a bit of banter when we needed to and played a lot more on skill. For us it's just focusing on what we do. We know they're a competitive team. They can at times be emotional but we'll just leave that to them."
The seven-day break between Tests could not have come at a better time for India, who, with Smith and David Warner out, will rarely get a better chance to defeat Australia in Australia.
The visitors have massive headaches in their batting with so much riding on the blades of Cheteshwar Pujara, Virat Kohli and Ajinkya Rahane. Some have quipped their batting starts at three and ends at five.
Openers KL Rahul and Murali Vijay are out of sorts with neither player reaching 50. First drop Pujara has been required at the crease by the third over in three of India's four innings.
"We've had solid plans if we can get the ball swinging ball around," Starc said.
"They obviously haven't done too well in the first two Test matches but they're guys who have scored big runs for India."
Australia's bowlers have eked out precious runs throughout the series, with their last four wickets returning an average of 92 runs per innings compared to India's 50. Wicketkeeper Rishabh Pant started farming the strike at six down in the run chase.
"Those partnerships make India bowl a lot more overs," Starc said.
"Its something that I think our tail takes a lot of pride in. And then with the ball were trying to do the exact opposite for them and try to get them out really quickly."
Andrew Wu writes on cricket and AFL for The Sydney Morning Herald
Most Viewed in Sport