Strive as Australia might, this Test match is slipping away from them. The bowlers – Josh Hazlewood in particular – were manful again on a long Saturday afternoon, but India is likely to set a target out of Australias reach. That will make five defeats and a draw in six matches since a famous win in Durban in March that now seems to belong to another time.
And another team.
As the national wailing and gnashing of teeth begins, this should not be forgotten. It was that team that ultimately screwed up so badly in South Africa, but it is this team that has been left to carry the can. What they are feeling, what the nation is feeling, is referred pain.
This team is being held to account for the damage done by that one. Australias penury is self-inflicted, but not by most of these Australians. They have individual improvements to make, but their collective failing is inexperience, which is not their fault. We should not hold it against them. They deserve to be cut some slack.
One of the peculiarities of the Cape Town saga is the tampering was planned and committed by batsmen for the benefit of bowlers. David Warner even tried to claim that it was an act of selflessness. One of the unanswered questions is about how much the bowlers knew, and how much or if they cautioned against it. But the outcome was that the batsmen were sanctioned.
That team, even when intact, had their struggles with the bat in South Africa. For this decimated team, the struggle is more acute. In 13 innings since Durban, Australia have exceeded 300 only twice. In that stretch, there has been only one century, Usman Khawajas epic 141 in Dubai. It has been a long and lean year.
Advertisement
Contemplations have it that Australia are rebuilding. It is not true. Rebuilding implies an eventual new permanency. At best, Australia are patching up, trying to hold the fort. At least two of these batsmen will have to make way once the banished return, three if Cameron Bancroft can prove his credentials again. They are playing musical chairs. Of the standing top six, only Khawajas place is assured.
This leaves the incumbents in a twilight zone, with ghosts all around. They know that even their best might not be good enough. By the time of next years Ashes, they might be dust. It must make for a unsettled mindset. Compounding it here is a sporty pitch, which lends well to a good Test tussle, less so to long careers.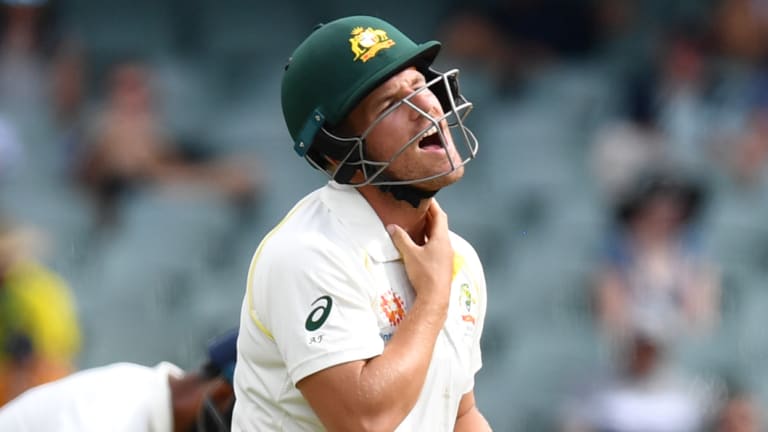 The other way to see it, the way the tyro batsmen doubtlessly do, is that this is an opportunity they otherwise might not have had. Individually, most have had their moments. In this match, Marcus Harris looked the part as a Test opener and Travis Head reinforced first impressions of a capable and attractive batsman who knows his limits and his strengths and works to them. Peter Handscomb still has his foibles, but fewer of them. Aaron Finch might be the right player in the wrong place.
All these observations might be made without prejudice of any Test newcomer from the ruck of Sheffield Shield cricket. It would be unfair to hold them to the astral standards of Steve Smith and David Warner. Shaun Marshs future is a separate issue. Isnt it always?
This is the back story to what has been a slow, fitful but engaging Adelaide Test match. Notionally, Australia and India were just about square after the first innings, but Australia have to bat last. Indias toils on Saturday will be Australias hard labour some time on Sunday.
Indian opener KL Rahus eccentric innings was the moral. At some point, he appeared to decide that though off his duck, he was sitting none the less. Circumspection would lead only to navel-gazing in the changerooms soon enough. So after 25 consecutive dot balls, he suddenly went off reservation, repeatedly aiming woolly drives over cover, exercising his inner Virender Sehwag. He got out that way, but not before making 44. It was his mute commentary on the pitch.
Australias conundrum is that every idiosyncrasy of the pitch and every jab from a bowler was double-edged, to be exploited on Saturday, but confronted on Sunday when their chase begins. However challenging batting was for India on Saturday, it will be no less so for Australia. Indias batting is vastly experienced, Australias babes in the woods.
This is the caveat on this match and the series.
Greg Baum is chief sports columnist and associate editor with The Age
Most Viewed in Sport